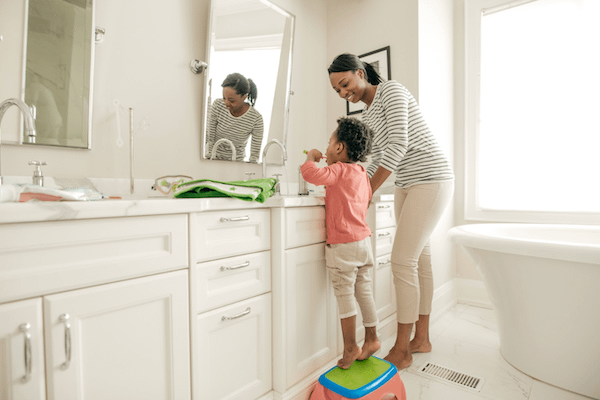 It's the first battle of the day and the final battle before bed – getting your child to brush their teeth. The struggle is part of life but so is establishing those good habits and practices to keep your kid smiling all throughout their lives.
Key 1: Make it Fun
Kids are the best hands on learners around with their amazing sense of curiosity. Use that to your advantage and try this fun snack-time experiment:
Taste Test Experiment
Give your child something delicious and chewy; like chocolate or a caramel and ask them how it makes their mouth feel. Is it getting wedged between their teeth or sticking to their gums? Ask them if they like that feeling.
Educate them on the damages that can occur by leaving those tasty food particles in their teeth.
Next, give them a carrot or a crisp apple slice. Ask them the same questions – how does it feel on your teeth and gums? Do you notice the difference?
Talk to your child about healthy mouth foods and how certain types of food hurt their oral health.
Key 2: Eat for Hydration
The crispy fruits and vegetables like carrots feel a lot better on your teeth and gums. A big factor of that is the high-water content in those foods. Our dentist recommend hydrating foods because they help prevent bacteria from sticking to teeth by increasing your saliva production. If you want to get a little silly go outside with your kids and have a spitting contest – let them see the difference between what a healthy hydrated mouth can do vs. a mouth dried out by lots of sugary treats. The point is to make it fun to encourage the importance of the morning and bedtime brushing/flossing routine.
Key 3: Don't be Smelly
Engaging all the senses is a great way to learn about foods, your mouth, and the importance of daily flossing. Eating that tasty caramel and letting it linger throughout all the meals of your day doesn't leave you with a friendly breath. Don't let your kids be like Stinkie the ghost from Casper. Good breath makes you approachable, more likely to be social, boosts your confidence and makes it easier to make friends.
Key 4: Don't Be Bored While Brushing
Find a short two-minute song that can become your family's toothbrush song. Bring a little music into the routine – again, engaging all those senses – to help build healthy habits. Bonus points if you can find a daily flossing song!
Great songs to start with:
Twinkle Twinkle Little Star three times
Baby Shark Do do, do do do do
Let it Go from Frozen – for a lengthy brush session and teeth white as snow
Key 5: Get to Know Your Green Bay Dentist!
Dr. Adam Koch, Dr. Mark Glime, and Dr. Brian Koch are our A-Plus Green Bay family dentists and our practice is built on caring for and teaching our patients like family. Just like the routine of brushing your teeth, visiting your family dentist is part of the deal to keep your mouth healthy and your smile bright.
We welcome new patients because we love what we do. Our practice is family-oriented and has the resources to instruct, educate, and care for the families of our community. We'd love to meet you, reach out and introduce yourselves today!